Rail Cars
Rail Car Safety Markings
Enhance visibility of rail cars, day and night, in all types of weather.
FRA-224 Rail Car Reflectorization Federal Mandate
In January, 2005 the Federal Railroad Administration published a ruling that requires reflective markings on all freight car rolling stock: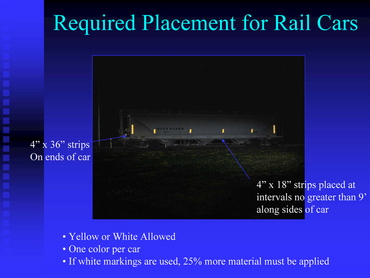 tank
cars
box cars
gondolas
hopper cars

All rail cars must be marked with with yellow or white reflective markings yellow or white reflective markings.
Implementation Timeline
May 31, 2007
20% of freight cars must be marked
10% of cars must be marked each year thereafter
May 31, 2010 All locomotives will be required to meet ruling requirements.
May 31, 2015 All All freight cars must be marked.
LaVanture 3M Safety Solutions
983-21 Fluorescent Yellow with FRA-224 224 mark
983-71 Standard Yellow with FRA-224 mark
983-10 White with FRA 10 White with FRA-224 mark
Reflectivity meets and exceeds federal
10 year warranty
Low temperature adhesive down to 35
Materials available in rolls and kiss/cut strips on a roll for easy application.